INNOMEM will offer its network of facilities and services through a Single Entry Point (SEP) to companies from inside and outside Europe. It will take especially into account the needs of SMEs and simplify their search, with a one-stop to access and choose within an EU boutique of experts and assemble the best service portfolio for every need (single contact, external project management …).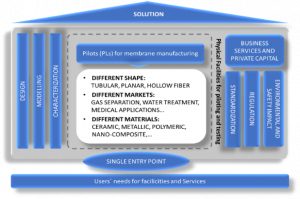 The INNOMEM Open Innovation Test Bed will be defined through 5 specific ones:
Development and organization of the OITB: by upscaling/upgrading of 14 Pilot manufacturing lines, and developing associated Technological and non-technological services
Set-up a Single Entry Point for easier access to SMEs and sustainable operation/commercialization of the OITB service offer
Validation of the upscaled/upgraded pilots and services through 10 Showcases
Set-up of two waves of Open Calls to validate the SEP and ensure the sustainability of INNOMEM
Development of the Democases selected in the Open Calls with the project partners in continuous collaboration with the applicants (Industries, in particular SMEs).