30/06/2022
INNOMEM at the OITB Village of the INDTECH2022 Conference
---
---
INNOMEM joined the INDTECH conference, an event dedicated to the industrial technologies held in Grenoble (France) from June 27th to 29th with the aim of improving visibility of industrial technologies, identifying policy options and priorities, sharing information and comparison of points of views, as well as a space for networking and finding common goals among industry stakeholders.
In this scenario, the INNOMEM project has the chance to present itself, the results already achieved, its services catalogue and the Open Call that will be launched in the upcoming months.
Tecnalia and PNO Portugal participated in the OITB village to give information about this H2020 initiative to industry and innovation leaders, scientists, researchers and public decision-makers.
In addition, Jose Luis Viviente from Tecnalia (the project coordinator) pitched INNOMEM to the audience during a shared session with other OITBs.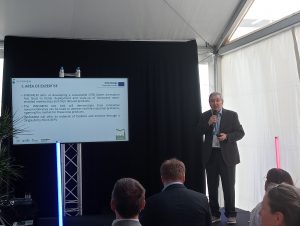 ---